OTR Web only creates fully Responsive Websites
What that means to you is that your website is viewable or responsive to any device, be it Desktop, Tablet or Smartphone without scrolling or stretching. Responsive Websites meet all current standards and are viewed as a Best Practice by Google.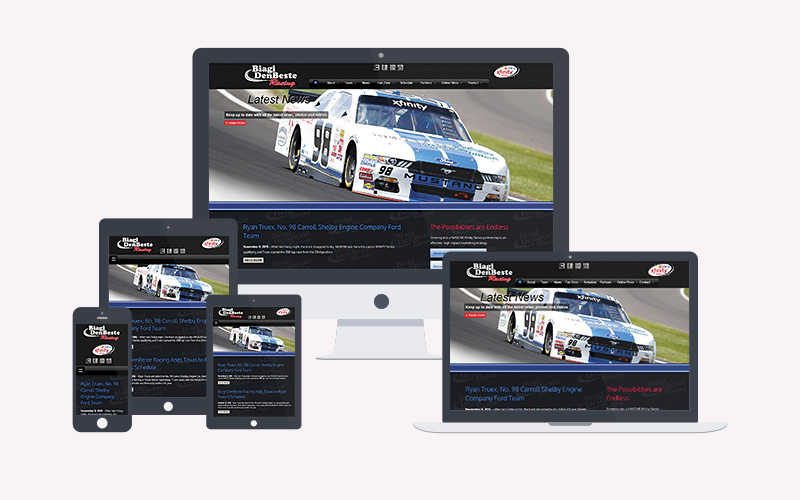 In days past the only solution to view websites on Tablets or Smartphones was to create a separate Mobile Website for each device. At best you had a mobile site and a desktop site to keep up-to-date and attempt to maintain from an SEO and content perspective. Your brand message was easily diluted with differing messages depending upon how your reader was seeing your site and on what device.
Responsive Web Design resolved that issue by allowing for a single website to respond to the platform it was deployed upon. Like water being poured from a jug into a tall glass it re-forms to the shape of its new environment. The coding of the website and the graphic designs used "look" at the device they are to be deployed upon and then reshape or even at times drop out. You will notice for example that on a Responsive Website the navigation menu deploys differently on a desktop than it does on a smartphone.
As the bandwidth available to download a website on Smartphones is less than on your desktop, a responsive website eliminates some "heavier" graphics to deliver the content to the Smartphone in a speedy manner. Studies have shown that you have mere seconds to download your website before the potential viewer moves along to a site that they can download. Patience in websites is not a virtue.
CMS Platforms and Responsive Websites
Generally CMS platforms (such as Drupal & WordPress, the OTR CMS's of choice) allow for Responsive Website deployment by reducing the image sizes rather than eliminating them for Smartphones. While this does work, it adds to the length of time it takes for the website to download on your phone. It then becomes a balancing act of compromise to determine how many images you can have on your desktop version before it makes the Smartphone version too slow in downloading. If a CMS is what you need (and often that is the best way to go) then OTR tests the site created on the CMS platform used for speed of download and makes certain we come within industry standards on all devices.
Custom Designed Responsive Websites
At OTR Web we are specialists in creating custom designed Responsive Websites. We can place as many images on the Desktop website as are needed and then code in such a way as to eliminate some of the images as the size of the device reduces. Precise and speedy download of your content in a readable resolution, to all devices and platforms, allowing for a single brand message delivered to your target market.
Start with our Project Planner to move forward!
Launch Project Planner